Trent Yager

Principal

Trent was raised in Northeast Missouri in the small town of Monroe City. He continued his education across the state at Missouri Western State University and graduated in 1998 with a Bachelor's degree in Business Management. While starting his career with ASI in 2000, Trent has continued to build a very large client list in the Firearms Industry; based on hard work and excellent customer service. He has experience with many claims-made and occurrence product liability insurance policies. Trent, his wife Christy, daughter Taylor, son Garrett, and dog Tiller reside in the Kansas City, MO area.

Contact Me

Logan Burditt

Agent

Logan grew up in the Kansas City metro area and continues to live there. He graduated from Kansas State University with his Bachelor's Degree in Management and Marketing. Logan has a vast knowledge of the outdoors industry and the various products that are associated with it. He works hard every day with clients to find the right coverage at the most competitive price in the Firearms Industry.

Contact Me

Paxton Masters

Agent

Paxton was born and raised in the Kansas City area.  He worked his way through college earning his Bachelor in Business Administration from the University of Missouri Kansas City.  Paxton and his wife Natalie spend most evenings and weekends enjoying time with their two daughters and their many activities.  He is also involved in his church and has a passion for firearms and hunting.  Paxton has over 15 years of project management and customer service experience, and looks forward to partnering with clients to find the best solutions for their insurance needs.

Contact Me

Lyle Burditt

Agent

Lyle grew up in Lee's Summit, Missouri. He attended the University of Missouri and graduated with a Bachelor's degree in Personal Financial Planning. He currently lives in Grain Valley Missouri and has a passion for hunting, fishing, and anything outdoors.

Contact Me

Bryan Montgomery

Agent

Bryan was born and raised in the Kansas City area. He graduated from the University of Central Missouri with a Bachelor's Degree in Criminal Justice. He served his community as a State Trooper with the Missouri State Highway Patrol for almost 9 years, including some time on the Troop A SWAT team, before joining the team at ASI. He is passionate about The Lord, his family, and firearms. He spends most of his time with his family at his rural home, east of Kansas City, and looks forward to making new connections in the firearms industry.

The ASI Team
Few things are more rewarding than loving what you do for a living. At ASI, we are not only gun insurers, but we are also gun owners, users and strong supporters of the second amendment!
Associated Services in Insurance (ASI) is an independent insurance agency that is licensed in nearly every state, and specializes in property, casualty, life and health insurance. Firearmsinsuranceagent.com (FIA) is a branch of ASI that serves as the company's Firearms Industry Insurance Department, as we focus on working with businesses in the firearms and ammunition industry.
We have built our reputation in the firearms industry by helping many businesses find the best insurance package for their needs. We have worked with a wide range of firearm and ammunition companies, including firearm manufacturers, ammunition manufacturers, importers, gun ranges, gun shops, gunsmiths and hunting guides and outfitters. In addition, we even insure enthusiasts with a large firearm collection!
Over the years, our clients have found that it's essential they work with agents who understand the specific needs and challenges that businesses in the firearm industry face.
Thanks to our years of experience, we're able to get multiple insurance providers bidding on the right to insure our clients, which in turn allows us to find the absolute best market price and the most comprehensive plan for our client's needs.
For more information, please call or email us today.
Our Partners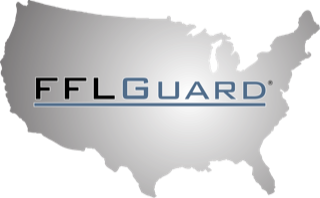 FFLGuard is a flat-fee legal service and firearms compliance program ("the Program") run by attorneys, who employ various subject matter experts, professionals and para-professionals from a consulting company, FFLGuard LLC, all of whom are specialists in the area of firearms law and ATF/firearms compliance..